Yosemite Valley Waterfalls
As if the world famous canyon walls of Yosemite Valley were not enough, each spring they come alive as high country snowmelt sends raging torrents of water cascading downwards from dizzying heights.
Yosemite National Park boasts some of the highest waterfalls in the United States. While each is impressive, it is the entire collection that inspires park guests to return year after year. No other place on earth can claim to have such a high concentration of large falls in such a small area.
*If you've never been to Yosemite or your main reason to visit is to see waterfalls , visit in spring (late April- early June) to see them at their best. Many falls run completely dry by August and September.
Yosemite Falls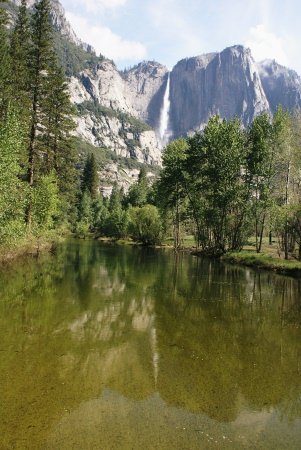 Measuring in at a staggering 2,425 feet, Yosemite Falls is the highest waterfall in North America and is considered by many as the sixth highest waterfall in the world.
Some discount this claim since the fall actually drops in two levels. The Upper Falls drops 1,430 feet, while the Lower Falls drops another 320 feet. The two are seperated by a series of rapids known as Middle Cascade that drops 675 feet.
Whatever the assertion, there is no debating the beauty of the fall.
Great viewing locations include Cook's Meadow (pictured above), where both the Upper and Lower Falls can be seen at the same time and Swinging Bridge (right), where the Merced River makes a nice foreground.
Possibly the easiest trail in all of Yosemite Valley leads to the base of Yosemite Falls (Lower Falls). It is usually crowded, but definitely worth the view and minimal effort.


Bridalveil Fall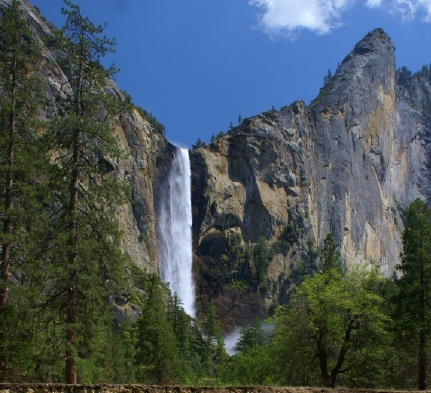 Bridalveil Fall is the first waterfall that guests entering fromthe south entrance will see. It is also the most photographed waterfall in Yosemite due to its location at Tunnel View.
Although quite a bit shorter than Yosemite Falls, at 620 feet, it still ranks as one of the highest waterfalls in the United States.
Bridalveil Fall could certainly be the main attraction if located in almost any other spot on the planet as is the case with many other waterfalls in Yosemite Valley.
Like Yosemite Falls, you can reach the base of Bridalveil Fall with little effort as well. In spring, be prepared to get wet and protect your camera.


Vernal Fall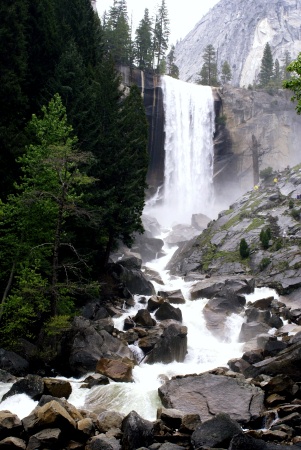 Vernal Fall by Yosemite National Park standards is a short waterfall, if 317 feet (nearly double the height of Niagara Falls) is short!
But what this fall may lack in height, it more than makes up for with power from spring snowmelt and is personally one of my favorites.
To get a good view requires a bit more commitment than reaching the bases of Lower or Bridalveil Falls, but is still considered an easy hike (There are no roads that lead to Vernal Fall).
It's about 1.6 miles to the Vernal Fall Footbridge with a 500 ft. ascent. However, to really experience Vernal Fall, you should venture up the Mist Trail.


Nevada Fall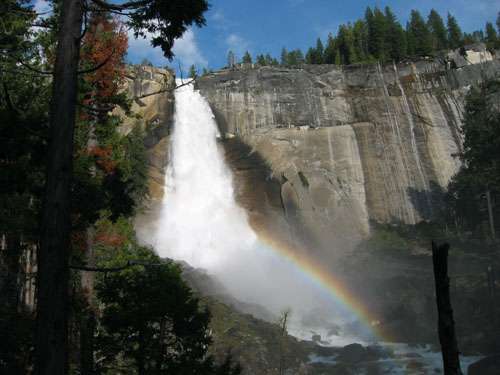 At 594 feet, Nevada Fall is one of the least viewed waterfalls in Yosemite Valley primarily since it requires a half-day hike with nearly 1,900 feet gain in elevation.
Those up to the task are rewarded for their efforts with great scenery and thinned out crowds.
From Glacier Point Road, visitors can see both Nevada Fall and Vernal Fall (nearly two miles away) together as it forms the "Grand Staircase."


Illilouette Falls
Of the major waterfalls in Yosemite Valley, Illilouette Fall probably garners the least attention. It is not because of size, but location. The 370 foot fall cannot be seen from any road.
Most people that view Illilouette Fall do so through the breaks in the trees while hiking up the trail to the Vernal Fall Footbridge.
Just keep an eye out on the right side of the trail and it will come into view high above and across the Illilouette Canyon.
For avid hikers, an up-close view of the fall (top-to-bottom) can be seen by taking the Panorama Trail from Glacier Point Road down to Panorama Cliff, where the fall plunges to meet the Merced River below.It is considered one of the best all-day hikes in Yosemite.


Ribbon Fall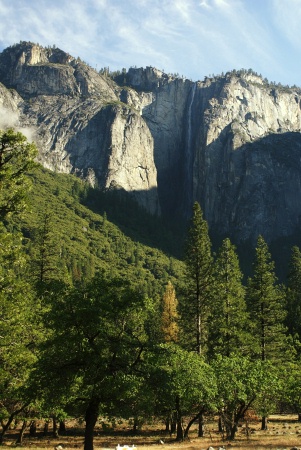 Ribbon Fall at 1,612 feet is the highest single-drop waterfall in the United States (North America's too!).
Ribbon Fall can be best seen from Southside Drive opposite Bridalveil Fall. It is located on the cliffs west of El Capitan.
The slender fall is fed by a small stream and is almost always one of the first waterfalls in Yosemite Valley to dry up.
There is no trail that offers a closer view, but there are turnouts along the road that allow for good viewing.


Horsetail Fall
Horsetail Fall is located on the eastern side of El Capitan and drops a total of 1,000 feet. Because of its relatively small source, flow typically ceases by the end of April. Horsetail Fall is easily viewed from the El Capitan Picnic area on Northside drive.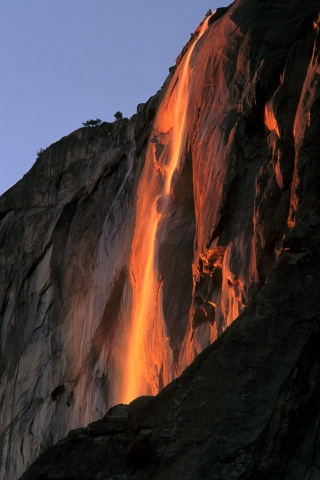 Although most visitors arrive in Yosemite National Park in spring and summer, those that enjoy winter activities in Yosemite can receive an extra treat.
Horsetail Fall is famous for receiving an orange backlight from the setting sun. The light makes the fall appear to be on fire. This occurance only takes place around the middle to late February.
Other notable falls include:
Sentinel Fall- 2,000 feet (Yosemite Valley)
Silver Strand Fall- 1,170 feet (Yosemite Valley)
Wapama Falls- 1,400 feet (Hetch Hetchy, an easy 5 mile round-trip hike)
Chilnualna Falls- 2,200 feet (Wawona, a rigorous 8.2 round-trip hike)