Hiking Yosemite National Park
Vernal Fall Footbridge:
With over 800 miles of trails, hiking Yosemite National Park provides an excellent opportunity to find hidden gems that are not quite road-side. One of the most dramatic trails culminates with views of Vernal Fall.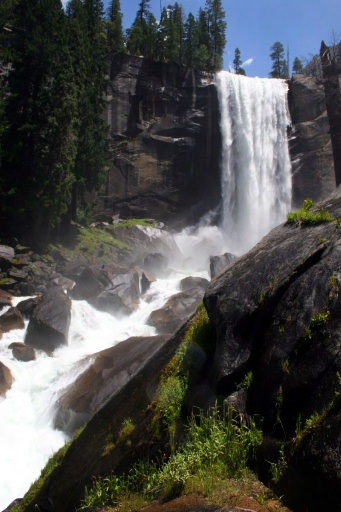 Amazingly, at 317 feet, Vernal is considered to be one of the shorter waterfalls in the park. This is a true testament to the epic scale that Yosemite possesses.
This relatively easy hike is only 1.6 miles round-trip (.75 miles to the footbridge). At the bridge, you will have a distant and somewhat obscured view of the fall. For your convenience, there is a bathroom and water fountain right past the bridge.
*Vernal Fall is best viewed in the spring when snowmelt runoff occurs, but runs yearly.
*Trail begins near Happy Isle Nature Center (shuttle stop #16).
*Estimated Round-Trip Time is 1 hour.
---
The Mist Trail: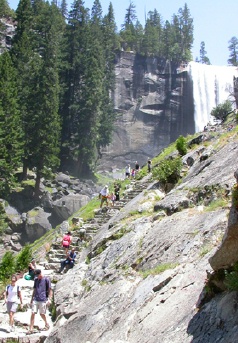 The Mist Trail, possibly the most popular of all Yosemite National Park trails, offers a truly unique experience. The path affords stunning views of Vernal. In fact, the footbridge picture above is actually taken from the Mist Trail. The path winds so close to the fall that in spring, hikers get soaked from the spray.
Continue past the footbridge and look for the Mist Trail sign. Follow the path as it bends left. This part of the trail is steeper than the footbridge portion. A climb of over 500 steps cut into the rock culminates with hikers peering down from the top of Vernal Fall, a spectacular sight.
If you choose not to go to the top of Vernal, at least venture a short distance on the Mist Trail. The view is worth it.
*Plan to get wet in spring, or wear raingear.
*Protect your camera. The spray will ruin it.
*Wear shoes with good traction. The trail gets slippery.
*Trail 2 is a continuation of trail 1. If combined, the estimated round-trip is 2-3 hours.
---
*As always, stay on the trail and use common sense. This trail is not dangerous, but every year someone gets swept over the fall and dies. Never swim in water above a waterfall.