Yosemite Valley
El Capitan and Half Dome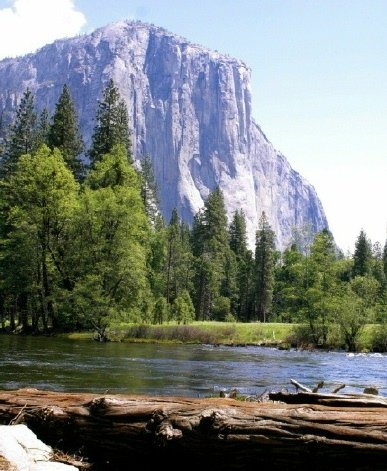 El Capitan in Yosemite National Park rises nearly 3,600 feet above the valley floor (7,500 feet above sea level) making it one of the most prominent features in the park.
One of the largest exposed pieces of granite in the world, this behemoth attracts rock climbers from aroundthe world.
Everyone seeing Yosemite Valley for the first time is truly amazed at the enormous size of El Capitan asit dwarfs everything in its vicinity.
But to really gain a sense of scale, don't forget to bring your binoculars in order to spot the rock climbers. They appear as tiny dots moving along El Capitan's seemingly sheer surface.
By far the most photographed spot in the park is Tunnel View, which frames Yosemite Valley to perfection, El Cap standing tall to the left, Half Dome in the center, and Bridalveil Fall to the right.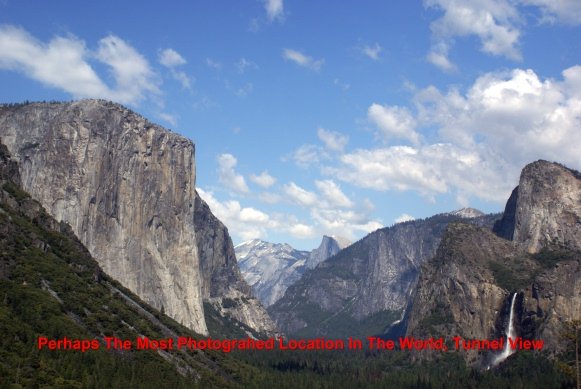 A great place to see the cliff hangers is at El Capitan Meadows. Just take caution to not trample the fragile vegetation and of course, try not to strain your neck.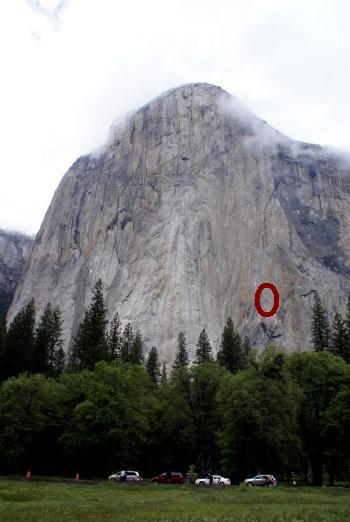 I know it's hard to see, but inside the red circle of the picture to the right, there is what appears to be a brown speck.
When zoomed in, as shown below, it becomes clear that the "speck" is a make-shift camp set up on one of the climbing routes.
It's pretty remarkable that anyone would have ever considered this feat and now thousands of people do it every year.
A typical ascent can last from seven to ten days, although some speed climbers of El Capitan can reach the summit in around twenty-four hours. A little too adventurous for my taste, but I sure had fun watching them.
For those wishing to learn climbing practicalities, the Yosemite Mountaineering School (209)372-8344 offers basic, as well as, advanced classes.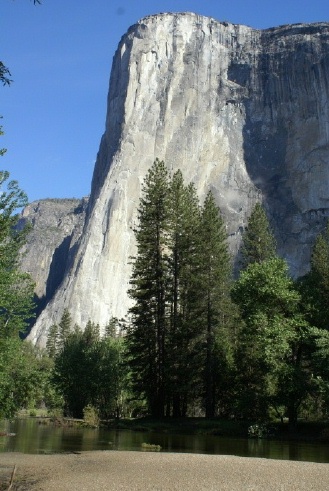 Another great but lesser known spot to view from is at Cathedral Beach located off Southside Drive.
It offers a more slender profile of the large rock and is personally one of my favorite spots in the park.
Additionally, it's one of the better locations for sunrise photography and only requires a short walk from the parking area.
How Was El Capitan Mountain Formed?
It was formed millions of years ago when less resistant granite was carved away by glacial ice, leaving the most impervious granite to remain standing.
In essence, the surrounding walls of Yosemite Valley are the strongest slabs of granite and the carved out valley were the weaker ones.
---
Half Dome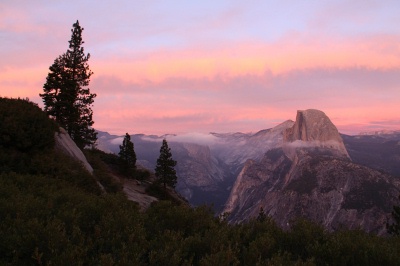 While many may argue which cliff is more spectacular, few disagree that Half Dome is Yosemite's and possibly the world's most recognizable rock formation.
Its distinct shape lead geologists to believe that the other "half" eroded away. Today, many believe that it is quite possible that there never was another half, at least not one as well formed as the eastern slope.
Half Dome rock, North America's sheerest cliff with a 93% grade, reaches nearly 8,900 feet, rising almost 5,000 feet above the valley floor.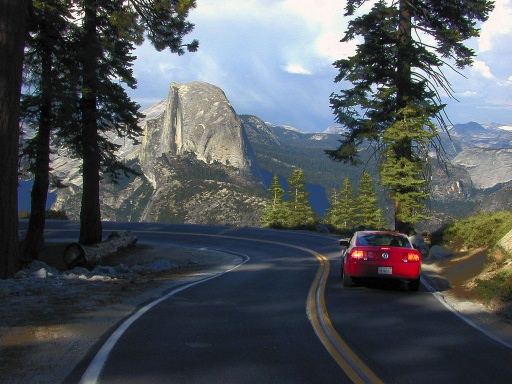 Glacier Point Road
(Closed approx. early November through late May)
Sixteen miles of twisting road lead to what many consider the most incredible view of Yosemite Valley.
Sitting 3,000 feet above the valley floor, Glacier Point is an awesome location to see a sunset. The face of Half Dome, which is now at eye-level, is often bathed in the soft colors of the setting sun. This is also a place where you can actually look down upon 2,425 foot Yosemite Falls.
Most people get here, snap a few pictures, and leave, but if you have time, stay through sunset. It's truly a beautiful sight.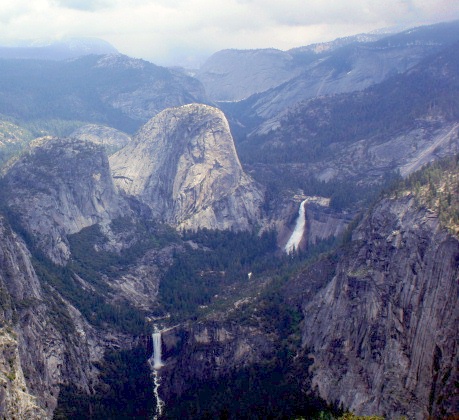 A fine view of the "Grand Staircase" can be seen from Washburn Point.
The turnout is located on the right-hand side of the road about a half mile before Glacier Point.
The staircase is simply the flow of 594 foot Nevada Fall converging with the 317 foot VernalFall as they both form the Merced River below.
Other Great Viewing Locations
Two other popular spots to view from include Cook's Meadow and Sentinel Bridge.
On clear days when the water is calm, you may be lucky enough to photograph its reflection in the Merced River.


Half Dome Trail



(Strenuous, 4800 ft ascent)

Sarah Graybeal's journey to the top of Half Dome

Perhaps Yosemite's most popular hard hike, guests must set out early to reach the summit of Half Dome. The seventeen mile round-trip can be done in a single long day (9-12 hours) or hikers can stay overnight around half way up at Little Yosemite Valley Campground.

The last 400 ft is quite steep, sixty degrees in some sections. Wooden steps and steel cables are used to assist in the final climb. The cables are removed in winter as people are discouraged from climbing when conditions are not optimal.

Bring gloves and a good amount of water. Do not attempt this hike during stormy weather as lightning strikes occur. While the Half Dome hike is rigorous, the effort affords stunning panoramas.

The trailhead is located near the Nature Center at Happy Isles, shuttle stop #16.