Yosemite National Park Activities
YOSEMITE NATIONAL PARK SUMMER ACTIVITIES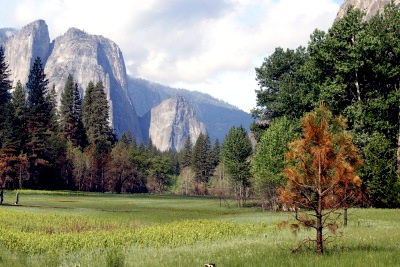 Horseback Riding
Yosemite National Park offers horseback riding tours from three stables. No experience is necessary, but all riders must be at least seven years of age, 44 inches in height, and weigh less than 225 pounds.
All activities in Yosemite are subject to weather, so it is recommended to call in advance. Reservations are usually not necessary for short trips, but in most cases, are recommended for the longer ones. The following gives an overview, as well as, a general guideline for when trips begin.
Yosemite Valley Stables (Late April-September, 209-372-8348). Points of interest include:
Two-hour rides to Mirror Lake.
Four-hour rides to Clark's Point with stunning views of Vernal and Nevada Falls.
Full-day trips available as well.
Tuolumne Meadows Stables (Late June-September, 209-372-8427). Points of interest include:
Two-hour rides in Yosemite's High country with views of the Cathedral Range and Mammoth Peaks.
Four-hour rides to Tuolumne Falls.
Full-day trips to Waterwheel Falls.
Wawona Stables (Early May-September, 559-683-7611). Points of interest include:
Two-hour rides to Pioneer Center and Wawona Meadows.
Four-hour rides to Chilnualna Falls.
Various full-day trips.
* Prices often change, so call for most updated fees. 2009 quotes are as follows: Two-hour, $60---Four-hour, $80---Full day, $119.
*Two-hour rides are considered leisurely, while full-day rides are a bit more strenuous and riders should be in good condition.


Rafting and Canoeing
Raft rentals can be made in Yosemite Valley at Curry Village (209-372-8319). The season varries, but typically runs late May through July.
Rafts hold up to six adults and come with life-jackets and paddles. Children must weigh fifty pounds to be permitted into rafts.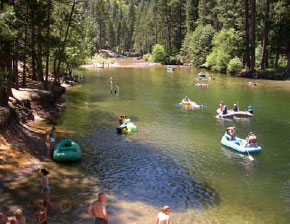 Fees: ($26 per adult & $16 per child 12 years or younger) Fee covers raft, one three-mile trip down Merced River, paddles, flotation devices, and shuttle return to Curry Village Recreation Center.
There are no other watercraft rental facilities, but you may bring your own canoe or inflatable devices and use the Merced River freely in designated areas when water levels and conditions are suitable.


Whitewater Rafting
While the portion of the Merced within the park's boundaries is relatively calm, you don't have to wander very far to experience world class whitewater. Look no further than Zephyr Whitewater Expeditions.
Conveniently located just 30 minutes from the Valley floor (Merced River meeting location) or just 1 hour and 15 minutes from the Tuolumne River meeting spot, a whitewater rafting excursion could be a perfect supplement to an amazing Yosemite vacation.
The premier name in the business, Zephyr has been offering exhilarating rafting trips since 1973.

5 reasons to choose Zephyr
Trust- They have been delivering thrilling whitewater rafting tours in California for over 35 years!
Safety- All river guides are trained in both CPR and wilderness first-aid. While most guides have remained with Zephyr for many seasons, all new guides receive an intensive six day training at Zephyr's very own whitewater school.
Variety- Zephyr operates on four rivers, allows for 1/2 day, full-day, and even 2-3 day trips, while designing tours for beginners or ones that can even test the nerves of seasoned rafters.
Affordability- Zephyr gives clients outstanding pricing that is all inclusive. There are no hidden costs or gear rental fees. They also continuously run specials and offer discounts on many tours.
Service- From the meals that are served to the client-friendly cancellation policy, no detail is taken for granted. Zephyr is dedicated to delivering the most memorable experience possible.
To make resevations online, click here.
To speak with a reservation specialist, call 209-532-6249.
1-800-431-3636 (toll free in United States)
Fax: 209-532-4525
*Mention Nationalpark-adventures.com and receive a special discount.


Bicycling
Bring your own or rent one. With over twelve miles of paved bike paths available in Yosemite Valley, biking is a great way to get an up close view of the park.
Bikes can be rented daily from the Yosemite Lodge Bike Stand (209)372-1208 or from the Curry Village Bike Stand (April-November)@ (209)372-8319.
Fees are approximately $10.00 per hour or $25.00 per day. Anyone under the age of 18 years of age is required to wear a helmet. All others are encouraged as well. Helmets are provided at no extra charge.


Fishing
(Typically late April to mid November)
Trout fishing is available along the Merced River in Yosemite Valley and along the Tuolumne River above the Hetch Hetchy Reservoir.
Anyone sixteen years of age or older must purchase a California fishing liicense. These range from a one day pass of around $13 to a ten day pass of around $40.
Permits may be obtained at the Wawona Store, the Tuolumne Meadows Store, or the Sport Shop in Yosemite Village, where fishing gear is also sold.
Rainbow Trout are strictly catch and release. Other guidelines are enforced such as no live or dead minnows, so feel free to ask a clerk or park ranger if you are uncertain.


Swimming
Swimming in Yosemite's natural water is best done from July to September. Any sooner and snowmelt may make this a cold proposition.
Still, portions of the Merced River in Yosemite Valley and in Wawona provide popular swimming locals. Others include Sentinel Beach, Tenaya Lake, and Swinging Bridge.
Public outdoor swimming pools are located at the Yosemite Lodge and at Curry Village. The Wawona and Ahwahnee Hotels have pools open to guests only.
*When swimming in Yosemite, always be aware of strong currents and Never swim in water above a waterfall.


Golf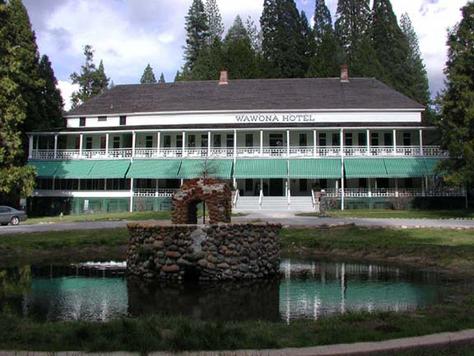 (mid April-October)
Golf enthusiasts can take a few swings at the historic Wawona Hotel located just four miles outside the park's south entrance.
A National Historic Landmark, the Wawona is California's 2nd oldest hotel.
The nine-hole course has alternate tees for those that wish to play a full eighteen. Prices are about $19 for nine holes and $30 for eighteen. You can also rent a cart for $15 and $25 respectively. To make a reservation, call (209)375-6572.