Yosemite National Park Trip
Mariposa Grove
Everyone's Yosemite National Park vacation should include a visit to Mariposa Grove. Located near the park's south entrance, it contains the largest and most impressive stand of giant sequoias in the park. It is a stunning example of why California National Parks are known for their strikingly, larger-than-life features.
These enormous colossals dwarf surrounding trees that are quite large in their own right. In fact, Mariposa's largest tree, the Grizzly Giant, is estimated to be between 1,600 - 2,000 years old, and its lowest branch is said to be larger than any non-sequoia tree in the grove.

A relatively easy two and a half mile trail system (5 miles round trip) leads from the Lower Grove to the Upper Grove, where you'll eventually encounter the Mariposa Grove Museum. Anyone with a moderate fitness level should not have a problem with the 1,500 foot elevation gain.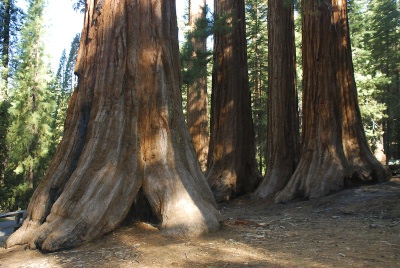 If you'd rather not walk, an hour-long, escorted tour runs every twenty minutes (June-October) from 9am- 5 or 6pm. Tickets for the narrated Big Trees Tour can be purchased at the Mariposa Gift Shop, located near the parking lot. For current prices, call (209) 375-1621.
Winter enthusiasts are encouraged to strap on snowshoes or to ski among the largest living organisms on Earth. However, no matter the time of year it may be, a visit with these giants will give you the feeling that you are not on Earth at all, but on another planet all together. To miss them would make your Yosemite National Park trip incomplete.
*Mariposa Grove Road is closed in winter (approx. November-April). Guests may still hike the two mile road when it is closed (500 feet elevation).